That's right. The Old Capitol City Roller Girls are so hardcore that there will be a tailgate before the bout (see below) in addition to the after-party at
Vesta
in Coralville.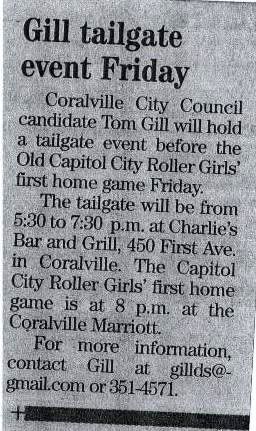 I apologize for not having written in a week; I was hoping to do a lengthy pre-bout evaluation and share my thoughts on the team's --as well as my own-- progress. But as it turns out, with me being the master procrastinator that I am, I realized Monday that I had three papers due this week
and
a class presentation. So it's been a very sleep-deprived and stressful week for Trip. (My pre-bout anxiety has been relatively low as compared to the past, though I am unsure whether this has do to getting used to competing in front of a crowd or merely being distracted by mountains of schoolwork, as well as a WTFDA take-home test). And while I am not ailing with the flu like a lot of people these days --knock on wood-- I was pretty sore after Sunday's practice when coach Bat R Up mercilessly rammed me several times.
What else? New skates continue to progressively grow more comfortable each time I skate in them. Jello shot night at Shakespeare's was fun and a successful venture for the team. Myself, Left 4 Deadwards and Animal Mother got a whopping 45 minutes of air-time Wednesday on the University of Iowa's radio station, KRUI, to promote our team and Friday's bout. And some experienced skaters may be joining the ranks of OCCRG in the imminent future, which is pretty darn exciting.
That's all for now; I'm fairly close to slumbering but I hope to have a post-bout summary up by Saturday. Wish us luck!