Friday night the Old Capitol City Roller Girls went to see Drew Barrymore's
Whip It
in a local theater.
Yours truly gives it a rating of: ★★★

Whip It
is a valiant but stunted directorial debut by Barrymore, who also stars in the film as Smashley Simpson, alongside Ellen Page of
Juno
fame.
Page plays Bliss Cavendar, a 17-year-old who is pushed into beauty pageant competitions by an overbearing mother (Marcia Gay Harden). Accompanied by her best friend Pash (Alia Shawkat), Bliss attends a roller derby bout featuring the Hurl Scouts on a whim. She is soon hooked and joins the Hurl Scouts roster. While she knows little about the sport she seems to impress everyone with her speed.
Whip It
is charming, funny and poignant in its own coming-of-age way. But there are inaccuracies in abundance and experienced roller derby skaters (or refs, fans, etc.) will take issue with.

Whip It
hardly delves into the grueling practices roller derby dames endure in their quest to be number 1. Despite not having skated in years, Bliss seems to turn into a star player overnight with little effort on her part.
The fighting. There are plenty of illegal maneuvers and abominable behaviors in the film, including deliberate tripping, punching and the like. I found this personally disappointing as I think all teams following the Women's Flat Track Derby Association rules would concur that we have worked very hard to be considered a legitimate sport; not like your mom or dad's roller derby from the 70s where girls socked each other around just to get reactions from the crowd.
The do-it-yourself-ness of roller derby in general is never really addressed. Roller derby is a sport run by its players, save for the few existing professional teams. The vast majority of teams, like OCCRG, don't have private coaches or managers. There's a lot of hard work involved keeping teams afloat by securing sponsorships, planning fundraisers and creating and posting fliers around town.
What did
Whip It
get right? The camaraderie, for one. Roller derby girls stick together and bond tightly. These are the women you see several hours a week, sweating and toiling together. There really exists a desire to see everyone on the team succeed and excel, whether they are an experienced veteran or veritable "fresh meat." Many ladies join for the exercise and contact and stay for the friendships.
I also give the film props for not being completely predictable, both in the areas of competition and [a budding] romance. Marcia Gay Harden was very much at home in her role of controlling wife and mother, but was very unbelievable as a postal worker (minor quibble). Though the majority of the cast was enjoyable the real scene stealer was the aforementioned Alia Shawkat, playing Bliss' friend Pash. Action sequences were a bit anti-climatic but it's worth noting all of the actresses did their own skating/stunts.
But all in all,
Whip It
manages to be endearing without overly cheesy -- a difficult task given the cliched follow-your-dreams (heart) message embodied within it. Trip recommends it.
And just for fun: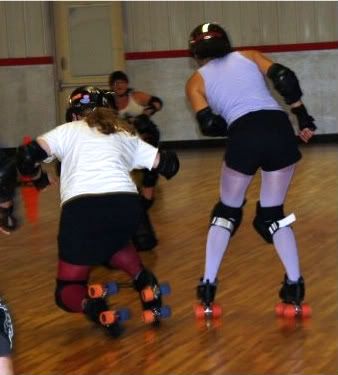 Showing no mercy to fresh meat Tyrant Angelica (left)