In case you haven't heard...

The mighty Old Capitol City Roller Girls won their first home bout on Friday over the Quad City Rollers with a final score of 185-91!!!
It was a special night not only because we were victorious, but because everyone seemed to be having a personal best effort. Our jammers skated hard, our blockers hit hard, and we looked out for each by assisting with whips and breaking down walls.
We also had a very good turnout of several hundred people.
Here are some photos from the evening: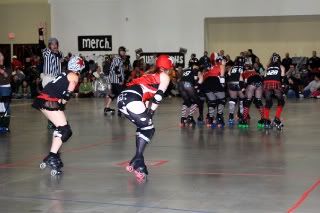 MVP Ophelia Fracture (left) toes the line prior to the start
Sweet Abattoir pushes Shelby Flyin into the clear
Yours truly (third from left) jamming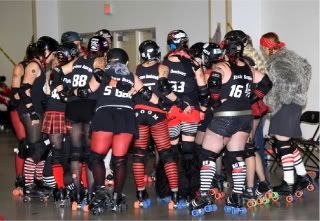 Team meeting at halftime
Animal Mother (second from left) gets a whip from Fonda Cuffs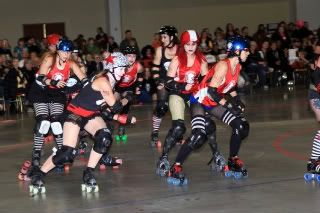 Ophelia Fracture (red star) scored an amazing 23 points during a single jam
Fonda Cuffs and Toxic Sugar celebrate the win