Left 4 Deadwards, Tynamite and Ophelia Fracture clowning around
It's been a busy past few weeks for the Old Capitol City Roller Girls who are in the midst of preparing to host their first home bout against the Quad City Rollers on the 30th. This includes a slew of activities including ordering new uniforms, securing half-time acts (this time it's the University of Iowa Step Team), setting up sound equipment, selling tickets, etc. Roller derby is very much a do-it-yourself type of sport although personally I find that aspect appealing; I prefer thing hands-on and in its own cheesy way it bonds us as a team.
OCCRG has also been making a lot of promotional appearances; this morning myself, Left 4 Deadwards, Recyclopath and Fast Bettie were on Z102.9 in Cedar Rapids to talk about the sport and our upcoming bout. Next Wednesday at 4 PM myself and a few other girls will be talking on KRUI 89.7, and just last night we had a girl from the
Daily Iowan
come and film the team practicing and she interviewed Killer Baker and myself. (Sound bytes and links soon to follow.)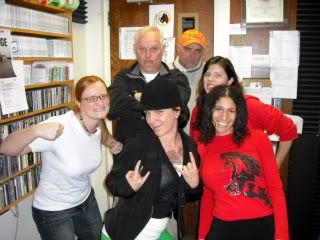 Recylopath, Fast Bettie, Left 4 Deadwards and yours truly with Schulte & Swann on Z102.9
After two practices in my new skates since they have been stretched I think it is safe to say they will work out. There's still a ways to go before they will be fully broken in but at least I'm not leaving blood stains on the inside of my boots anymore and the skin on my foot has stopped peeling. So yes; crisis averted.
Cranium CrusHER went in for surgery this morning to plate her broken ankle (see previous posts for photos) and is expected to be out of action a minimum of three months as she works her way from a non-weight-bearing cast to a weight-bearing cast, and finally a special boot. Pollyslamma reaggravated her old knee injury. And Hitzy Blonde came down with H1N1 but is slowly recuperating and is expected to remain on the roster for the bout.
Practices can be more grueling --think four-minute jams for a total of some 45 minutes-- but there's also some fun stuff mixed in, including the ever-popular Blood and Thunder. B&T is a game where the last woman standing is the winner; everyone is using hip and shoulder blocks to take out everyone else. Terribly addictive, that.
But spirits are high and it's evident OCCRG is hungrier than ever for a win.
Bring on the 30th!
[PS-- Don't forget about $1 jello shots at
Shakespeare's
tomorrow night! See your favorite roller girls and enjoy drink specials.]