In case you've been living under a rock or perhaps in a hollow tree, you should be aware of the fact that the Old Capitol City Roller Girls won their fifth straight bout this past Saturday at the Coralville Marriott. Facing off against the the Stateline Derby Divas of Beloit, Wisconsin, OCCRG notched a blowout victory with a staggering final tally of 303-69.
The Fullmetal Derby-themed bout featured the debut of new OCCRG skaters Holm Wrecker and Gigahurtz as veteran skaters Hitzy Blonde and Killer Baker remained laid up with knee and ankle injuries. And I'm proud to report that they both skated like pros and even took respective turns jamming. In fact, there was a slew of veteran blockers making rarely witnessed appearances on the jam line including Toxic Sugar, Benzo Bang, Fannysaurus and Animal Mother.
Overall it was a strategically played game by OCCRG, won with near-impermeable walls, pace manipulation and self-sufficient jammers. Highlights included an obscene 37-point jam by Ophelia Fracture and the passing of the star by Benzo Bang to Left 4 Deadwards, who pushed OCCRG over the 300 mark for the first time ever.
Here are some photos from the bout taken by the talented
Emily Sherman
: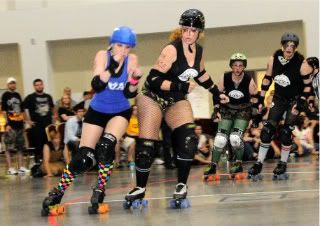 Animal Mother moves in for the kill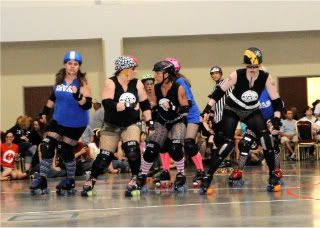 Solid walling by Toxic Sugar, Old Yeller and Gigahurtz
Shelby Flyin was one of many lead jammers for OCCRG
Fannysaurus tackles a Stateline jammer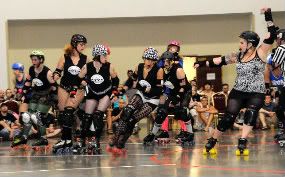 Yours truly skimming the inside line with some help from teammates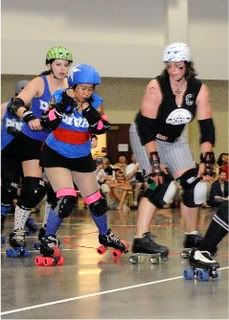 Bat R Up terrorizing a Stateline jammer
Next up: OCCRG heads on the road again for their first anticipated match-up with the Mid-Iowa Rollers in Des Moines on the 19th.