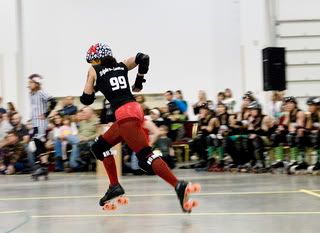 I have to apologize for the lack of blog action lately but after our heart-wrenching 3-point loss to the Mid Iowa Rollers on the 19th I had to put the bout out of my mind for a little while. The Old Capitol City Roller Girls had led the game from the start but losing by that little in literally the final few seconds of the final half was like a punch to the gut.
It was a bout we should have won; though we put our hearts on the track as always we made some costly mistakes. But we'd had some huge blowout wins earlier in the season, and doubtless that did not aid us in playing a team as venerable as MIR. Even in retrospect the experience is going to make us much stronger and wiser as a team. OCCRG lost nothing in defeat in coming up three points short versus a team that has been around and active for over five years. Considering we have only been around since October of 2008 (and only bouting since June of 2009), there is no question in my mind whose star is on the rise.
Even still, the loss still stung in the days afterward. It was quite fortunate that I had volunteered --along with Animal Mother and Fannysaurus Rex-- to skate with the Quad City Rollers in Lincoln, Nebraska this weekend, as it gave me something else to focus on and push towards. (I've also always vowed to skate for other teams when offered the opportunity not just to help out fellow derby sisters in need but to pick up experience playing different teams and venues.)
The Quad City Rollers lost to No Coast Derby Girls B team, the Road Warriors, but I did have quite a good time skating and observing some very peculiar jam scenarios that arose. I knew QCR was short some of their better skaters like Pink Taco and Diamond Dust so I went into the bout thinking that if I could be an asset to them, I would be satisfied.
I had some decent turns as jammer, including one 15-point tally in the last jam. But I think I had a career-best night as a blocker; keeping my eyes peeled for those Road Warrior jammers and, without tooting my own horn too much, wiping them out with some monster blocks that I think would have made Bat R Up proud. (Yes, there is footage and you'd better believe I will be linking it here once it surfaces!) And to top things off I only ended up in the penalty box once (for four minors).
But watching the Mad Maxines of Lincoln butt heads with the Omaha Roller Girls as part two of the double-header was surreal. I was mesmerized by the athleticism, cunning and sheer passion for the sport of the skaters before me. I had a fine vantage point atop the stage next to the DJs, and while everyone stood up and cheered loudly the duration of the bout, I sat quietly on the stage imbibing as much of the game play as possible. I did discern several shrewd tactics and calls that I quickly digested and filed away, synapses firing as my eyes scanned the pack repeatedly.
The Maxines were solid throughout the game but Omaha made a spectacular comeback in the second half to cut a sizable deficit to less than 30 points by the bout's end, thanks in part to some hugely salutary jams by Anna-Maniac and Ima Firestarter.
I did run into Anna-Maniac at the after-party and she told me nonchalantly, beer in hand, that she thought I had skated well.
And then I peed a little in my DerbySkinz.