It's been an interesting past two weeks, to be sure. My Achilles tendon did heal well enough for me to start running again, and I was pleased to be back outside in the sunshine instead of toiling indoors on the stationary bike. The last Wednesday practice before our May 22nd bout against the Des Moines Derby Dames went well other than me landing on my right foot funny during the last ten minutes of practice.
By coincidence, I did have an appointment with my podiatrist the next morning. I described the fall and the resulting pain running along the right side of my foot. He diagnosed me with a stretched peroneal tendon and informed me that it would probably take two or three weeks to heal fully, which sent me into panic mode. Within a few hours of the injury, I could not even bear weight on my right foot and I couldn't conceive it being possible in the slightest that I'd be well enough to skate that Saturday.
The Old Capitol City Roller Girls needed me to jam on Saturday. We were already skating short, not having ace jammers Ophelia Fracture and GladI8Her as well as the blockers Zom B, Shelby Flyin and Hitzy Blonde. I envisioned having to call coach Bat R Up to tell her I couldn't skate, disappointing the rest of the team...
And yet there was a glimmer of hope: Dr. Sehl told me sometimes such injuries make quick turnarounds, and in my case there was very little swelling. He advised continuing to take my heavy-duty anti-inflammatory, wrapping the foot in sports tape, wearing the boot I'd previously used on my left foot and icing the tendon like crazy.
I followed the prescription zealously over the next two days, and miraculously enough by Saturday the pain had diminished enough that I could skate. I wouldn't be at my best, but I'd be pretty close. As for the bout itself, I wasn't sure what to expect -- we'd won comfortably in our only meeting with the Dames, but they were more experienced and we were without several of our best skaters. Additionally, Bat R Up asked me to be Alternate Coach for the bout -- equally flattering and daunting.
As it turned out, it was a most arduous bout. Left 4 Deadwards and myself did the bulk of the jamming, mostly against the fleet Stella Italiana of the Dames. In the first few minutes of the game, OCCRG was down by a number of points. Our heads just weren't in the game, but we dug deep further into the first half to reclaim the lead. The Dames were tenacious but OCCRG fought even harder to maintain the margin.
Left 4 Deadwards was evasive and swift and was named lead jammer in the vast majority of her jams. I had a 20-point jam (and a bout total of 82), a personal best, though it helped that the Dames' blockers and jammer were stuck in the penalty box at the time. Bat R Up jammed a few times and true to form took out a number of the Dames in spectacular fashion. Footage of the bout can be viewed
here
; be sure to check out 2:06, 2:16 and 3:23. Toxic Sugar also got in several rock solid hits.
In the end, it was OCCRG 151-122. But we were not without a casualty. Furyis Jorge went down hard and broke her fibula so she will be out for a few months. I'm glad she doesn't need surgery for it but I will sure miss that monkey on the track.
Shots from the bout: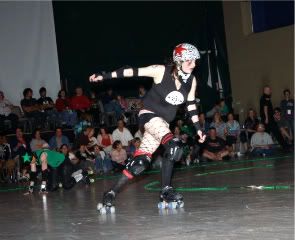 Left 4 Deadwards in one of her many turns as lead jammer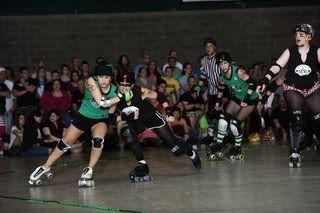 Furyis Jorge making OCCRG proud with a solid hit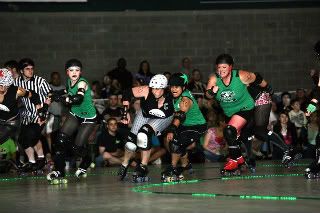 Coach on coach action: Bat R Up butts heads with Show Stopper