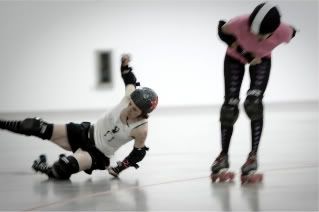 Taking no prisoners with PsycHo AnalyzeHer (left)
It's crunch time for the Old Capitol City Roller Girls, who stand at 5-1 for the season and are set to take on the powerhouse known as the Mid Iowa Rollers --currently undefeated in six bouts this season-- in undoubtedly the toughest test OCCRG has faced to date. Saturday is swiftly approaching and that equates to lengthy scrimmages, new pack drills and lots of strategizing off the track.
In Sunday's practice I was placed in the position of pivot quite a few times; far more than I usually am. It did not take me long to find out why.
Pivoting is hard.
Arguably it is the most challenging position to play, and it takes an apt player able to quickly assess the ever-changing scenarios of roller derby and convey crisp, effective instructions to her teammates.
I had always assumed the pivot's role was simple. To set an appropriate pace (fast if her jammer is in penalty the box; slow if the opposing team's jammer is in the box) and hold the inside line as the last line of defense against the other jammer. And, I suppose, that is the position at its very core.
But I'm finding out it is so much more than that. I consider myself to be a sharp and visually aware blocker, but I struggle with vocalizing during jams -- I'm much more of a 'hot hand,' physical communicator, and this does not parlay into the best pivoting abilities. While I left Sunday's practice feeling a bit frustrated with my performance on the track, I feel highly motivated to work that much harder. It's important to me to be the best asset I can possibly be to my team, and I consider that to equate to being versatile enough to switch between jammer, pivot and [regular] blocker -- essentially being placed where I am needed by the bench coaches.
We're fortunate to have some very efficacious pivots on our team -- Toxic Sugar, Hitzy Blonde and Animal Mother, to name a few. I certainly have more respect for those women having had more time to play the position myself.