The Old Capitol City Roller Girls, some refreshed by the long holiday weekend and others; hung over, have been practicing in earnest for
Scars and Stripes Forever
, our first home mixer bout that will feature some of the lovely ladies of the Quad City Rollers. For Saturday's bout --starting at 7 PM and held, as usual, at the
Coralville Marriott
-- promises to pack all the red, white, [black and] blue you can handle.
A mixer, for those of you who are wondering, features two or more teams where the skaters are divided up and reassigned into newly created teams. It's both challenging and refreshing for the skaters, who are pitted working side-by-side with girls they may have played against in the past but do not practice with regularly.
OCCRG is, by the way, very excited to announce that the ever-dominant and local
Klinefelter Sisters
will be performing as the half-time entertainment.
On the personal front, it was my turn to coach practice on Sunday, as team coach Bat R Up is away vacationing in stinky France. We did some scrimmaging and I was eager to teach the team some new drills I had found after many hours spent Googling. There was a new pivot drill in particular that centered on communication and teammate reliance that seemed to be well received by the girls on the team. Although none of this was as grueling as tonight's practice, which started with a sprint of 108 laps punctuated with twenty-second respites. (I know what you're thinking: 108 laps isn't a sprint; it's a marathon! And you would be right; a sadistic, depleting one.)
And just as food for thought I thought I'd share an interesting article from the New York Times,
Phys Ed: What Science Doesn't Know About Women
, debunking the myth surrounding protein and its supposed essential role in exercise recovery.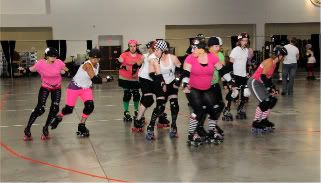 Scrimmaging with the newly-formed Farm Fresh Roller Girls of Orion, Illinois