***I apologize for the very tardy writeup on the bout versus the Eastern Iowa Outlaws Felons from April 16th. It's been a very rough and stressful past couple of weeks for me, having to put my dog down, helping my older sister with wedding preparations and struggling to get final papers turned into professors on time. That being said...
OCCRG came into the bout heavily favored against EIO, still riding the momentum of a 4-0 season that included tallies over the WFTDA teams Kansas City Rollers' Plan B and Mad Rollin Dolls' Unholy Rollers. Still, as a team we knew better than to get cocky, especially when facing a new team for the first time (and one that had also recently been approved as a WFTDA apprentice). We were familiar with a handful of EIO skaters including veterans V Train and Dead Lee Danni, as well as frequent sub Krystallica of the Midwest Derby Divas, but weren't quite sure what to expect.
As it turns out, the bout held at the Five Flags Center in Dubuque turned into a comfortable 243-122 rout over EIO. OCCRG has made skating hard and focused from the get-go a focal point this season and jumped out to a typical early lead. Gladi8Her and Ophelia Fracture racked up their share of points quickly as jammers, but this was a nigh in which our defense really shone. Blockers like ZomB Blokr, A Few Screws Lucy and Jane Bang not only did a topflight job of holding back opposing jammers, but also luring those opposing jammers and blockers into committing major penalties like back-blocking and out of play's. Left 4 Deadwards was an asset while doing more blocking than jamming, and Animal Mother, Bat R Up and Fannysaurus Wrex had a great night stats-wise in terms of attacks and assists.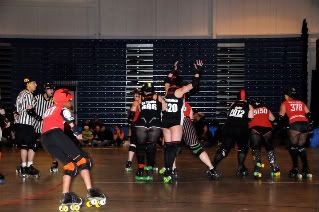 EIO jammer Krystallica back-blocks Bat R Up as Gladi8Her nears her second pack pass
EIO acquitted themselves well but were hampered by numerous trips to the penalty box that often left them skating short in most jams. It was a tough night for the Felons as they also saw their previously undefeated B team, the Misdemeanors, fall to the Peoria Push Roller Dames in the following game.
Now beyond 20 feet of the pack, EIO's V Train and Dead Lee Danni cannot engage OCCRG's Ophelia Fracture
[As for myself, it was a reversal of roles from the previous week's bout against Kansas City in which I spent the vast majority of the time blocking. I got to wear the jammer pantie quite a bit in Dubuque and enjoyed a fairly good night stats-wise (although I'm still looking to make fewer appearances in the penalty box). I even had a pretty nifty apex jump a la Left 4 Deadwards.]
For OCCRG, the win improved our 2011 record to 5-0 and was our ninth consecutive victory -- as well as being our fifth bout in six weeks. Though we're training as hard as ever we won't been seen in action again until May 21st, when we will travel to nearby Cedar Valley to take on the Push Up Brawlers -- a game that will touch off four straight weekends of bouting.