Photos by Dave Shrader
Going into last Saturday's bout against the Kansas City Roller Warriors' Plan B travel team, Old Capitol City Roller Girls were feeling confident in our abilities, but unsure how we would match up against a seasoned WFTDA travel team. OCCRG would enter the bout with a seven-game win streak and tremendous momentum, but Kansas City also brought its own winning streak including a last-out absolute beating delivered to the roller girls of Topeka, 325-45. Our victory in Madison had been a surprising but desperately close one; would we be life-or-death clashing with Kansas City?
ZomB Blokr is on top of things
Well, not exactly.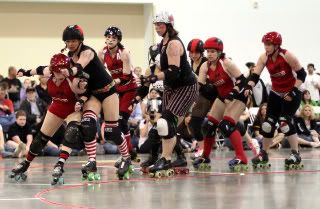 Ophelia Fracture squeaks by on the inside while Bat R Up holds back the opposing jammer
Though I am considered a veteran skater of OCCRG, pre-bout jitters have been a terrible struggle for me in the past. I've made great strides in conquering them but my bench coaches tend to sit me out the first two or three jams to make sure I am cool and collected before going in for my first one. And time and time again I have been awed and inspired by my teammates, who take no prisoners right from the start. Our jammers --Ophelia Fracture, Gladi8Her and Left 4 Deadwards-- are fleet-footed and agile; our incredible blockers --everyone from Bat R Up to Animal Mother to Jane Bang to ZomB Blokr to Fannysaurus Wrex to A Few Screws Lucy-- are shrewd and calculating. Watching them skate and dominate gives me added confidence and pluck I didn't know I possessed.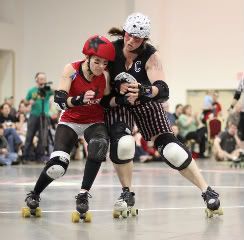 Bat R Up takes out a KC jammer... and sends her flying into a spectator's lap
As well as OCCRG played last Saturday, Kansas City played almost as well. They too had capable jammers as well as a hard-hitting and terrifically aggressive defense that kept us working hard to maintain control. One area OCCRG struggled with during the first half was staying out of the penalty box; it was not an uncommon sight at the beginning of jams to see only two OCCRG blockers lining up on the track. Despite the penalties, we went into half-time still leading 115-102.
Left 4 Deadwards cuts inside while I zero in on the KC jammer
During our time away from the track we made up our minds to go out strong in the second half, to up our defense while skating cleaner to stay out of the box. And stepping back onto the track, we were focused and motivated. As the minutes on the clock ran down in the second half, OCCRG gradually extended the lead. More Kansas City blockers made their own trips to the box and more of their jammers were shut out with fewer or no points accumulated during the jams.
Gladi8Her takes lead while Bat R Up and Jane Bang move in for the kill
OCCRG ultimately prevailed with a comfortable and definitive score of 213-152 over Kansas City. The win bolstered our 2011 record to 4-0 and marked the team's eighth straight win. But the ladies of OCCRG aren't ones to rest on their laurels. We're coming right back tomorrow on one week's rest to take on the Eastern Iowa Outlaws for the first time in Dubuque.
And we're ready.
Yours truly butting heads in the second half
As for myself, last Saturday was a valuable learning experience. The Kansas City team had as fierce and assertive defense I have come across yet as a jammer, but I did fairly well. During the first half I was able to garner lead jammer status on most outings and was able to chase the Plan B jammers and force them into calling things off early when they got through the pack first. In the second half I played exclusively as a blocker as that was where I was needed most; to assist defense in stymieing the Plan B jammers. It was a little bit refreshing and good practice for future bouts, even though I had suffered a back strain in the first half and was in quite a bit of discomfort.
The back strain knocked me out for almost all of this week, but after regular dosages of Relafen and hourly icings, I've got the pain down to a manageable level and feel ready for tomorrow.
Besides, I've got a hankering for some spankering.