It's full swing here with OCCRG. Last Saturday was the launch of four straight weekends of bouting, with the team slated to take on -in order- the Cedar Valley Push-Up Brawlers, the Sioux City Roller Dames, the Omaha Roller Girls' AAA team and finally the Minnesota Roller Girls' B team.
It was no secret going into last weekend's bout that the team was heavily favored to route the Push-Up Brawlers, who would be skating in only their third lifetime bout. We were not only expected to win, but to dominate over a far less-experienced team. So what do you do? Skate as hard and aggressively as you always do or take it easy on the neophytes?
For me, it wasn't really even a question. Sports at its essence is about giving it your all, pushing yourself as hard and as fast as you can -- whether you are winning by 200 points or losing by 200 points. It's the only way to play and maintain the integrity of the game. And quite frankly, I don't think the Push-Up Brawlers would have had it any other way.
The emphasis going into this bout was all on defense, and this had really little to do with the past record or skating style of the Brawlers. Though OCCRG is undefeated and a winner of our last nine bouts, we don't take anything for granted and we're always examining ourselves for ways to improve. Our captain, Bat R Up, has maintained most of the season that we were letting our opponents pick up too many easy points. So in the six weeks since our last bout against the Eastern Iowa Outlaws we've been training up a defensive storm, fine-tuning plays and strategies for all of our future bouts.
Back back to the Brawlers bout. We took no prisoners from the start, with our jammers racking up grand slam after grand slam while our blockers held them scoreless until half-time; 152-0. Early on in the second half the Brawlers picked up 6 points but the scoring gap continued to widen until the timer ran out, with the final score at 298-6.
Photos by Donna Olmstead
Butting heads with a Brawlers jammer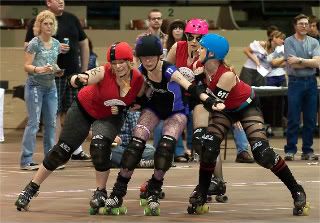 Jane Band and Swiss Misfit put on a squeeze while Fannysaurus Wrex looks on
A Few Screws Lucy likes creating 'strategic' chaos in the pack
A Brawler takes a dive at Ophelia Fracture
It would be simpleminded and injudicious to look at the final score and conclude that the Push-Up Brawlers are a bad team. On the contrary; for a team making only its third appearance in a bout I found a tremendous amount of upside and promise. Their tenacity and grit was truly admirable -- I think there are very few teams out there that could be down by so many points and say that they would have still played with the intensity and never-say-die attitude that the Brawlers exhibited in front of their wildly supportive home crowd.
Their blockers tried hard to hit and push out our veteran jammers every go round, and their own jammers picked themselves up and fought to get through our strong walls. What they lacked in experience they made up for in moxie. And for the record, the Brawlers play hard on the track but they are an awful nice set of ladies off of it.
As for OCCRG, we'll be taking on the Sioux City Roller Dames for the first time in just a few short hours on our home turf of the Coralville Marriott. The latter represents an unknown as most of us on the team have never seen them skate, but we're always excited to take on new teams, especially an established one like Sioux City. It should be a competitive bout and I'm itching for a dog fight.