I have to apologize for the very tardy breakdown of the Old Capitol City Roller Girls -- Des Moines Derby Dames bout on March 26th. Our March Madness of three bouts in as many weekends left me wiped out but I am happy to say that after many nights of ten-hour slumbers Triple D. Zaster is back to her usually feisty and pugnacious self. I've seen more spark from my teammates at this week's practices as well, so despite not knowing a good deal about the Kansas City Roller Warriors' Plan B travel team I feel the team is ready to give a good account of ourselves on our home turf.
But, back to Des Moines. Going in I knew the Dames were hoping that OCCRG would be knackered and jaded, but I felt confident in my team's vigor and constitution -- especially in light of coach Bat R Up's typically grueling practices aimed to raise both one's strength and stamina. We hadn't played the Dames in over a year but we knew with more experience they'd be tougher this time around. Their star jammer, Stella Italiana, is nimble and startlingly quick and warranted the majority of our focus and energies.
The bout played out as expected. OCCRG established an early lead and never relinquished it, though the Dames were always in striking distance thanks to some big jams from Stella Italiana. Their defense was tough but ours was a little better, and other Dames jammers like Ella Diablo, Show Stopper and Smallsbury Steak were shut out entirely during a few jams. OCCRG's A Few Screws Lucy, Fannysaurus Wrex, Zom B Blokr, Jane Bang and Animal Mother made for an especially formidable defense.
And Bat R Up? "The Kraken," as she is remembered in Des Moines, made her presence felt repeatedly in the first half, delivering her usual round of punishing blocks that sent various Dames to the floor. But she had to sit out the entire second half after accumulating six majors -- most of which I feel were unfairly called simply because Bat R Up is a big hitter, but that's a rant for another day.
In the end the score stood at 156-123, with OCCRG bringing both their 2011 season tally and record versus D3 to a perfect 3-for-3. It also marked OCCRG's seventh consecutive victory. Stat-wise Stella Italiana -predictably- was the highest-scoring jammer, but I did have the second highest point average per jam and notched a 20-point jam. Not to toot my own horn but that's not easy to do when you come from a reputable stable of jammers that includes the venerable Ophelia Fracture, Gladi8Her and Left 4 Deadwards.
And now for the photos: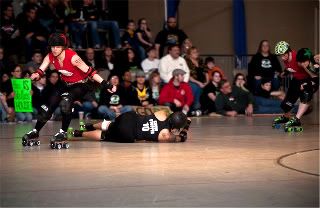 Ophelia Fracture skates around a fallen Show Stopper, while farther back ZomB Blokr tries to stymie a D3 jammer
From left: Ophelia Fracture, Animal Mother and Devil'n Laces make a formidable front wall, but leave just enough room for Left 4 Deadwards to squeak through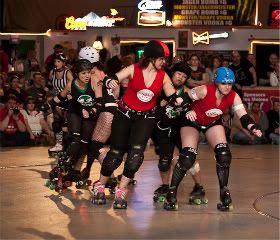 Animal Mother (left) and Swiss Misfit's two-woman wall is enough to hold back Show Stopper
Ophelia Fracture (second from left) attempts to navigate around Show Stopper, Jane Bang holds the line while Fannysaurus Wrex takes out Stella Italiana
Swiss Misfit (right) holds the line while Bat R Up and ZomB Blokr swarm a D3 jammer
Bring on the Kansas City Roller Warriors. I expect them to be tough but OCCRG is ready to bring the fire.