In the Old Capitol City Roller Girls' first home mixer bout, Scars 'n Stripes Forever, it was the [red] Liberty Belles who skated to victory 179-129 over the [blue] Femmes of Freedom. I was on the winning team, though the Femmes of Freedom were definitely short one or two jammers and I think that put them at a disadvantage from the outset.
Getting the finger from referee Layne Rubber
I can't complain; I got to see plenty of action as a jammer and a blocker. My jamming was decent and I had several 9 and 10-point jams. As a blocker hits just weren't connecting very well tonight so I stuck to booty-blocking the majority of the time. Or maybe things just felt less successful since I was, for once, skating against some of the more venerable blockers of OCCRG like Left 4 Deadwards and Zom B Blokr. Mexican Monster and Lady Gotcha, both of the Quad Cities and skating as Liberty Belles, were valuable players. I was also proud to see my 'derby wife' (i.e. apprentice) Gigahurtz doing some of her best skating.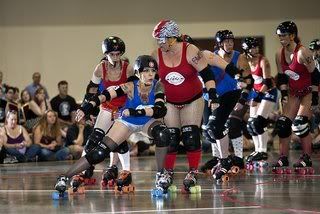 Fast Bettie leads the way ahead of Chemical Spill and Toxic Sugar
Our next bout won't be until August 21st --a home bout against the Lacrosse Skating Sirens-- so it will be nice to take a bit of competitive edge off the practices. I myself will be going to visit my mother in New Jersey for the latter half of the month; though I couldn't bear to go that long without skating... so I'll be attending a practice or two with the nearby Philly Roller Girls. They're WFTDA-sanctioned so I anticipate learning a lot.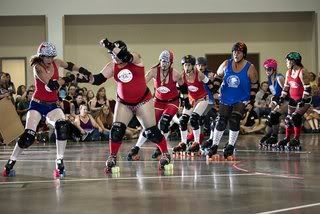 Ophelia Fracture gets an assist from Toxic Sugar
In other news I'm still hunting around for the ideal wheel for myself. I'm leaning towards the slimmer, narrowly-profiled wheels since I do find myself in the role of jammer regularly. Probably will be looking at some Atoms; maybe the [slim] Stingers, Jukes, G-Rods or Omegas. Although it's probably not as exciting to read about as it is for me to shop for them.
Left 4 Deadwards and I jockeying for position
All photos courtesy of
Cathy Kovach
.