Whew. It's been a whirlwind past couple of weeks; neglecting the blog while I crammed for final exams and churned out last-minute papers. But now that school is out for the summer you can count on better coverage on your Old Capitol City Roller Girls.
About three weeks ago while running I developed a moderate, radiating pain in my left ankle that seemed to stem from my Achilles tendon. And though I made it my New Year's resolution to stop going on the Internet and self-diagnosing myself with various illnesses and injuries, I did some Googling and figured I must have tendonitis in my Achilles. Most sources said to just to cut back on the workouts slightly and practice the infamous RICE treatment until it subsided. So I stopped running and just skated and walked for exercise, popped ibuprofen around the clock and iced with a gel pack. But after a week I wasn't seeing any improvement; the pain was worse and the tendon was swelling, so I made an appointment with my podiatrist. He diagnosed me with moderate Achilles tendonitis and prescribed a heavy duty anti-inflammatory, physical therapy and a hideous immobilizing boot to wear all day, every day for the next two weeks.
Unfortunately, as the date of the home bout with the Cedar Rapids Roller Girls neared I had to make the dreaded call to my coach to tell her that I didn't think I could skate without worsening the condition of my Achilles. She was disappointed, but understood. So on Saturday, May 8th OCCRG skated without me in the bout, themed Better To Get Knocked Down Than Knocked Up and sponsored by
Avoid the Stork
.
And I am proud to say that even skating one player short OCCRG steamrolled Cedar Rapids 271-84! Though I hated missing out on the action, I was very pleased with what I saw: Swift jammers, solid walls/blocking and aggressive hits. Also exciting was having Benzo Bang making her bout debut, as she was one of the very first OCCRG skaters but spent most of last year laid up with a bum knee.
Ophelia Fracture blitzing, as usual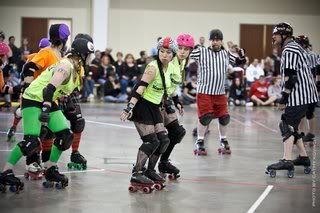 Recyclopath, Killer Baker and Fannysaurus wall it up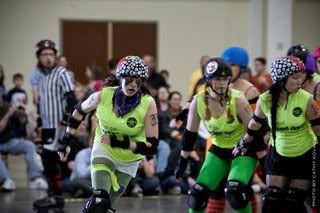 Left 4 Deadwards in the clear
Sorry, no photos of Bat R Up mopping the floor with an opposing skater this time ;)
Meanwhile, my tendon is healing nicely; well enough that I can skate with no discomfort so I can still skate against the Des Moines Derby Dames this Saturday. I might even start reintroducing running to my exercise regimen again, which is well-timed as I am getting awfully tired of riding the stationary bike at the gym.
Don't forget about our next home bout on Saturday, June 5th against the Stateline Derby Divas!