Today a few of the Old Capitol City Roller Girls --namely Fonda Cuffs, Animal Mother, Left 4 Deadwards, Tynamite and yours truly-- made their public debut at NAPA's tool sale on Highway 1. It was a resounding success on all fronts.
With buckets in hand, we introduced ourselves to employees and visitors alike, described our team background and answered various questions ranging from "Where do you skate?" to "Do you girls do private parties?"
The reception was decidedly positive and I think we've secured a number of new fans both young and old. Cruising around the store and in the parking lot in our skates, derby garb and pads we drew a lot of attention and even a few honks from the highway. In the process we raised a princely sum of money for the team and even secured a new sponsor in NAPA. And yes, they fed us brautwursts too.
If you weren't in attendance, you surely missed a good time. The roller girls posed for a slew of photos (definitely keepers!) and handed out fliers, and Tynamite even drove a forklift!
But don't worry, this was but one of several appearances the Old Capitol City Roller Girls will make this month in addition to their scheduled bouts (see schedule in May 17th post).
If you are interested in having the Old Capitol City Roller Girls appear at your own shindig, drop us a line!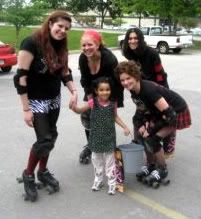 Greeting a young fan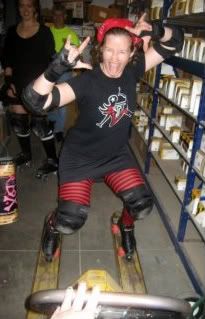 Fonda Cuffs shows her wild side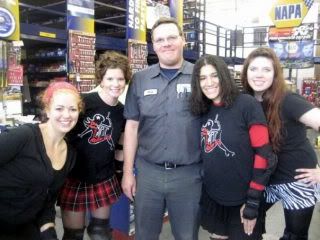 Sweetening up the day for NAPA employees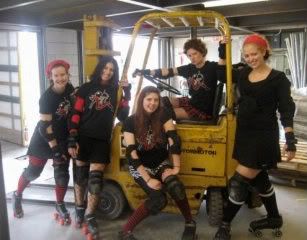 You know you want some of that