When I worked with racehorses in Kentucky, we had several maidens (horses who were yet to win a race) in our care. Most of them had never started in a race and were what you would call "green." To make the transition to racehorses much smoother myself and other co-workers did a lot of what we called schooling.
We took them to the paddock, or saddling area, in between races to let them see the crowds up close. We trained them in the mornings to break quickly from the starting gate. Sometimes we shipped them to the track weeks ahead of time to let them get a feel for the surface and acclimated to their new surroundings.
And sometimes --some may argue most of the time-- they run mediocrely in their debuts despite all the preparation. They might become stressed and act out against their handlers, spook at shadows or try to jump the tire tracks left on the racetrack from the drag used to smooth the surface. They may stumble coming out of the gate, become overeager and fight their rider, or maybe the light bulb simply doesn't come on until the end of the race.
But with the experience of one race under their belt, horses tend run much more professionally in their second start. It's a popular betting angle to play the horse who ran greenly in his debut but has, more confidently, put in good workouts since for its next outing.
Sweet Abattoir, Animal Mother and Toxic Sugar representing OCCRG
What does this have to do with roller derby? Perhaps very little but I think it illustrates my experience skating in Saturday's bout versus the Quad City Rollers. I was, to put it lightly, quite green. As a jammer I was tardy at the start, gawked at the crowd when I should have been pushing myself for all I was worth and seemed dazed when knocked down by members of the opposing team.
No, my performance wasn't disasterous but it was far from my best. But while I might I have gotten down on myself for it in the past, instead I felt a burning desire to push myself harder. I feel so much more hungry now to get back out on the track and prove that I can do better. That there is still room for improvement now that I have my first bout under my belt. I now really know and have experienced what it all entails: Traveling to the venue, skating on a new surface, playing against strangers in front of a large crowd.
But enough about me. How about those Old Capitol City Roller Girls, who
in their very first bout
pushed the Quad City Rollers to a narrow 135-132 win? We gave them all they could handle and then some, despite having first-timers like myself and Shell Be Flying on the roster and missing some of our marquee names (namely Bat R Up and the injured Benzo Bang) from the line-up. A personal best was getting lead jammer status during one of the jams, though undoubtedly the real stars of the night were GladI8Her and Ophelia "Grand Slam" Fracture who blitzed past the Quad City girls like they were standing still.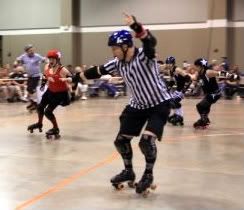 Left 4 Deadwards is lead jammer! (As designated by the affable Howie Swerve.)
It was a huge effort from a tremendous team who only came into existence last November against a team that has been around for over three years. I couldn't be prouder to be a part of the Old Capitol City Roller Girls, who continue to turn heads and earn respect and new fans wherever they skate.