This past Saturday the Old Capitol City Roller Girls went up against the Cedar Rapids Roller Girls at the U.S. Cellular Center. Though we went down in defeat we were ultra game and fought tenaciously.
The Old Capitol City Roller Girls themselves are a bit of an underdog story. We formed in November and only made our bouting debut on June 6th. On that day we faced the Quad City Rollers, a venerable three-year-old team; on Saturday we were pitted against a team with eighteen months' experience to our seven. So it was an uphill battle before we even stepped out onto the rink, and we knew that going in. Still, I think we surpassed everyones' expectations.
Especially considering we were encumbered by a dirty head referee who called every penalty our team made but was loathe to call penalties against his own home team. It also didn't help that the scores weren't always correct, as earned points were not always being added to our score. And we were still missing key players Bat R Up (who will be returning to us from Utah next month), Benzo Bang (still out with a bum knee) and GladI8Her (sick with pneumonia).
So, all in all, not a bad effort. And perhaps more importantly, we now know our weaknesses and what to work on.
The last practice before the game was buoyed by the presence of the proficient and ever-supportive Sugar 'N Slice and Banshee of the Quad City Rollers, both of whom generously offered their assistance to the Old Capitol City Roller Girls. (Sugar 'n' Slice herself skated with our team Saturday while Banshee coached from the bench.) New drills kept everyone motivated and Sugar 'n' Splice, noticing my ardor, took the time to show me a few pointers.
"My advice is like candy," she told me nonchalantly. "Take what you like and leave what you don't. But with you it's all about harnessing that power."
On a personal note I skated more far more competently than in my debut in Davenport. I hopped back onto my feet quickly when I was knocked down --save for the time my right toe stop came flying off but that couldn't be helped-- focused on the jam instead of the crowd and held my own blocking against some much larger girls. I also got lead jammer status once, but am still a very long way from emulating MVP Ophelia Fracture.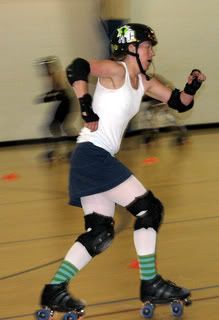 OCCRG's resident tourbillon, Ophelia Fracture