After the previous week's testing bout against Sioux City, I felt much more comfortable going into last Saturday's contest versus Omaha Rollergirls' AAA team. Bat R Up was back from Utah. We'd had a week to drill and tighten up our defense further after a nail-biter of a bout exposed our imperfections. And after having to sit out most of the second half with six majors, I was quietly determined to make far fewer trips to the penalty box.
If nothing else, I figured we would have front row seats for the second of the doubleheader: Two veteran WFTDA teams, ORG's All-Stars and the Chicago Outfit, pitted against each other.
The ride to the venue in Council Bluffs was uneventful and I arrived early enough to get in my core workout while Fannysaurus Wrex and Left 4 Deadwards applied their trademark face paint. Unlike most teams which allot half an hour or less for individual team warm-ups, ORG had graciously allotted a full hour. We used every last minute of it, working in more drills and getting a feel for the new surface.
As the start of the double-header neared I felt calm and collected. I didn't know a whole lot about the ORG's AAA team other than that several of the skaters like Mid Life Crashes, Spin Shady, Eblastagirl and Mikillya also do double-duty with the All-Stars. But as I found out during the bout, there were also some less seasoned girls skating.
…
As is the norm, Ophelia Fracture lined up as our first jammer of the night. While our blockers held AAA scoreless in the opening minutes, she made it look easy while racking up several grand slams that set the tone for the evening.
Shortly after in cyberspace the ORG twitter feed reads:
Occrg scores 20 points in the first jam! Yee-ouch! 20-0 OCCRG
In the following jams Gladi8Her, myself and Left 4 Deadwards take turns wearing the star and earning a slew points as our blockers take control of the pack and slow the pace to a crawl. Bat R Up, Animal Mother, A Few Screws Lucy, Fannysaurus Wrex, ZomB Blokr and Jane Bang are the usual culprits when it comes to picking on the opposing jammers, who often ending up hitting the concrete or forced out of bounds.
The ORG twitter feed updates:
4-47 OCCRG these gals mean business! O.0
AAA ends up doubling their score to 8 as the end of the first half nears, but we are up by over 100 points. Our blockers are doing a terrific job of trapping and separating the opposing team's blockers and jammer, while leaving small swaths of track for our own jammers to skirt through. It's clear the AAA girls are getting frustrated, and their coach has already called two of their three timeouts at the half.
Our strategy remains the same going into the second period. I have picked up a fourth minor at the end of the first half as jammer, so the first jam of this new period is a power jam for AAA as I begin it in the box. Though not ideal, it's of little consequence as the AAA blockers are unable to get their jammer through; my minute is soon up and I gain lead jammer status coming right out of the box. I'm not squeaky clean on penalties tonight, but I'll take three trips over six any day.
As a team we are untouchable on this evening. Hours upon hours of conditioning and communication have us performing like a tremendous machine, and it's not to be for AAA. They fail to pick up any points in the second half and the bout ends at a decimating 225-8. (It will be a tough night for ORG, who also see their All-Stars fall to the Chicago Outfit in the proceeding contest).
The Minnesota RollerGirls' All-Star team --second in the North Central rankings and undoubtedly the toughest examination posed to us-- await the following weekend. But tonight is our night, and I feel ready to meet whatever comes our way.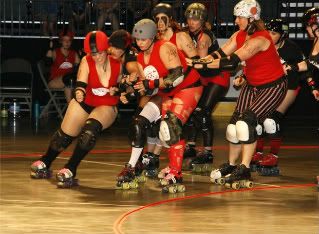 It's red in every direction as Animal Mother, Ima Gold Diggah, Bat R Up and Left 4 Deadwards surround a jammer
Left 4 Deadwards, off the heels of a sensational effort versus Sioux City, delivers a punishing blow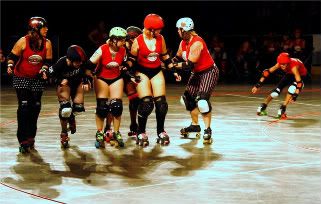 A Few Screws Lucy, ZomB Blokr, Animal Mother and Bat R Up herd AAA blockers to the outside, leaving the inside line wide open for Gladi8Her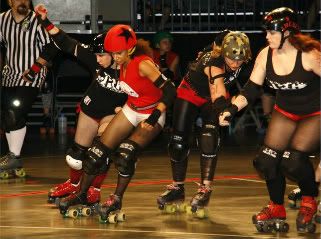 I enjoyed a far more successful and consistent night as both a jammer and blocker