This week the Women's Flat Track Derby Association (WFTDA) accepted ten new teams from around the world to be a part of their Apprenticeship program.
Three
of them are from Iowa.
In addition to the Old Capitol City Roller Girls, both the Des Moines Derby Dames and Mid Iowa Rollers --both of the state capital-- were accepted. This goes a long way in sending a message to the rest of the international roller derby community that Iowa is ardent and dedicated to the sport and will be becoming a more prominent name.
The Women's Flat Track Derby Association is the international governing five-member body for the sport of women's flat track roller derby and a membership organization for leagues to collaborate and network. The WFTDA sets standards for rules, seasons, and safety, and determines guidelines for the national and international athletic competitions of member leagues. There are currently 98 WFTDA member leagues and 43 leagues in the WFTDA Apprentice program.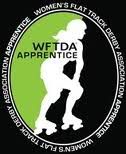 So what's the big deal? WFTDA is the big time and certifies all of the nation's best teams from the Oly Rollers of Washington and Gotham City Roller Girls of New York to teams in Canada and Europe. Member leagues get a vote in organization decisions, access to vast networks of other WFTDA teams and eligibility to tournaments and rankings. Part of being an apprenticing team to WFTDA stipulates that a team must play at least six sanctioned bouts against other WTFDA-certified teams during the season, which means that OCCRG will playing against several teams in the North Central region in 2011 for the first time. The quality of skating will be higher and the team will be, hopefully, getting more press and exposure.
Can you dig it?