First of all, I would like to apologize to those of you who do follow this blog since I haven't updated in quite some time and failed to provide any sort of buildup to the Old Capitol City Roller Girls' Flying Elbow bout versus the Quad City Rollers yesterday in Davenport. I'm in the midst of a pet health crisis and it's been a hectic and stressful past week.
That aside, I am proud to report that OCCRG posted a dominant 148-98 victory over the Quad City Rollers, showing no mercy from the outset. In the first half we had some big jams from Ophelia Fracture (not a surprise to anyone by now), Left 4 Deadwards and myself. Fast Bettie did split shifts as jammer and blocker; Fannysaurus Wrex, Animal Mother and Recyclopath put up some rock-solid walls that stymied quite a few Quad City Rollers jammers. And of course Bat R Up, ever the menace, had quite a few big hits that had opposing skaters flying in all directions.
In the weeks before the bout we had been spending a lot less time scrimmaging and a lot more time adding new skills to our repertoire, learning new drills and practicing new strategies. Even sitting on the bench from time to time, it was evident the deviation from scrimmage-intense practices was paying off and it was very satisfying to see the drills we'd rehearsed playing out as they were designed to. OCCRG played sagely; working together to control the pace of the pack, trap opposing skaters and break walls for their own jammers.
The score was 95-32 at the half; during the second period the Quad City Rollers mounted a niggling comeback but never seriously threatened OCCRG, who held sway with 50 points by game's end. On a personal front, I finally toppled my bout jitters and kept my head in the game. Vastly improving on my performance in the home bout LaCrosse Skating Sirens last month, I managed to land a couple big-point jams and deliver a few hard hits to a few Quad City Rollers jammers. And I played smarter; pulling a few 'Hit It and Quit It' jams, keeping a more vigilant eye on any Quad City Rollers coming out of the penalty box and watching my bench coach for signals on each go-round. Sometimes it really
is
all in your head.
Next up will be another away game for OCCRG versus the Cedar Rapids Rollergirls in October, followed by the season finale against the Quad City Rollers at the former's stomping grounds of the Coralville Marriott.
Photos from last night's action:
Benzo Bang pushes out Lady Gotcha of QCR
Bat R Up jams?! And gets lead jammer status!
Yours truly walling with Bat R Up to hold back QCR's Sugar 'n Slice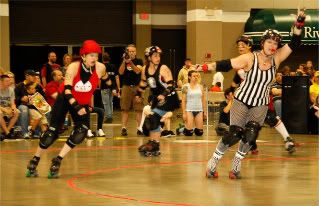 Layne Rubber denotes Left 4 Deadwards as lead jammer
Fannysaurus Wrex is not only a great blocker; but has the best paint job around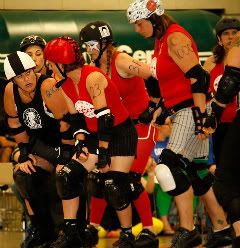 Ho No U Didn, Recyclopath, Bat R Up and Left 4 Deadwards toe the line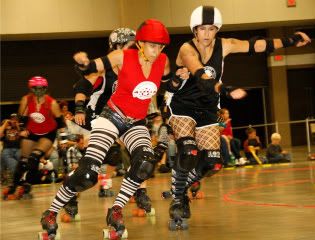 Striking the front