What does it take to win a roller derby bout?
Talent, passion, teamwork, a willingness to take risks and a little bit of luck.
That was all on display at tonight's bout; a nail-biter right down to the very end. In both a physically and mentally-trying endeavor, the Old Capitol City Roller Girls edged the La Crosse Skating Sirens in one of their very stiffest tests to date. It was a fraught match that had the crowd on their feet, as both teams traded the lead throughout.
OCCRG led early, with Ophelia Fracture and Left 4 Deadwards racking up a slew of points. But the Sirens were just getting warmed up, and countered with the most aggressive blocking our team had ever experienced. There was a bevy of big spills on the track as the Sirens utilized every trick in their arsenal: Trapping opposing blockers, high and effective hits, chasing our jammers past the pack...
The Sirens had forged ahead with a sizable lead going into the second half. There were several misfortunes befalling OCCRG that allowed them to close the gap. Bat R Up and Fannysaurus Wrex fouled out and were eliminated from play. A communications snafu handed the Sirens a power jam when no OCCRG jammer was sent to the track.
Meanwhile, I was having my own personal crisis of sorts. I got plenty of jamming action during the first half but failed to rack up the big points, a result that had me questioning my own abilities as a skater. My competition anxiety was getting the best of me and I was playing timidly and without focus. During half-time Bat R Up showed me my dismal point spread and matter-of-factly shrugged it off.
"You don't like it?" she asked nonchalantly. "Then go out there and change it."
It was simple advice, but sagely nonetheless. I went back out during the second half, took a deep breath at the jam line and just went. In my first outing back I scored a 15-point jam that pushed OCCRG back into the lead. Ophelia Fracture took off where I left off, adding to the tally in her turn as jammer. Zom B Blokr, Left 4 Deadwards, Benzo Bang and Animal Mother stymied the Siren jammers on several occasions.
And yet, the Sirens managed to cut into our lead, and eventually forged ahead with less than 15 minutes left to go. They maintained it going into the last jam of the night, which started with 1:31 left on the clock. But in an unexpected turn of events, the Sirens left the track to call a timeout which was not immediately recognized by the referees. The jam proceeded seconds later and, with three of their blockers off the track, the Sirens were left at a severe disadvantage at a critical junction. OCCRG skaters trapped the sole remaining Sirens blocker and managed to foul out the Sirens jammer early on; leaving Left 4 Deadwards to her own devices in a power jam. The latter was quick to capitalize on the circumstance and hustled to lap the pack several times before the jam ended.
Then the score was posted: 141-133.
To say we were thrilled was an understatement. It seemed at several intervals of the bout that we were going to be beaten; that we were outgunned and in over our heads. And yet, we pulled together when the bar was raised. On a personal level, I did contrive to pull my head out of my rear to have a vastly improved second half where I contributed several points to the team.
Still, I felt more exhausted emotionally than physically as I left the track. It's good to be pushed -- but also very stressful. There was also the matter of the Sirens, who were understandably upset about the turn of events that saw them lose the bout in literally the final [90] seconds, which resulted in a lengthy meeting between referees, non-skating officials and captains.
Ultimately the result was allowed to stand and we were all left remembering the importance of pertinacity and a never-say-die attitude.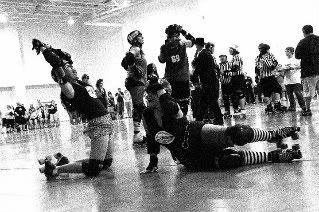 Photo courtesy of
Emily Sherman Photography
[On a side note, I had some coworkers attend their very first OCCRG bout (or any roller derby bout for that matter. Suzette, Michael and Christen, thanks for the support and I hope you are well on your way to become die-hard derby fans. Also sending out get well wishes to Quantum Bombshell who had to miss tonight's bout after suffering bruised ribs during Wednesday's practice.]