I suppose an explanation is order. It's going on four months since I updated the blog, something I am definitely not proud of. But life, as it is wont to do, sometimes throws a wrench into our plans. Although I can't say anything terribly major occurred I did have a hard time the past few months motivating myself to do much of anything.
I'm not a winter person. The lack of sunlight, barren landscape and frigid temperatures just don't agree with me. This semester at school has also been tumultuous, with my grades slipping significantly. To put it simply, I was burnt out for a long time. But before I knew it, the Old Capitol City Roller Girls' season opener was upon us.
On March 13, we took on the Paper Valley Flying Squirrels, arguably the toughest and most venerable team we will face all the season. OCCRG put up a good fight and were not disgraced in finishing 195-108 behind the Squirrels. The crowd, as always, was loud and supportive.
Less than a fortnight later on the 26th, OCCRG traveled to the River Center in Davenport to face their old foes the Quad City Rollers. Entering the bout the rivalry was split 1-1, with the Quad City Rollers having won the first match by three points before OCCRG avenged that loss with 185-91 triumph on their home turf of the Coralville Marriott.
OCCRG skated in their best effort yet as a team to route the Quad City Rollers 127-74. Our jammers were swift and agile as usual, but it was as blockers that the team really shined. We had tough, effective walls built, the inside line vigilantly guarded and our eyes keenly attuned to the Quad City jammers. This was a fortuitous vision Coach Bat R Up had described to us in the minutes before the opening jam, a dream she had had the week before.
On a personal note, that night was my 25th birthday and the determined victory by OCCRG was the best gift I could have asked for. And just like that, the spark was rekindled. I snapped out of my funk, both on and off the track. I worked on getting caught up with assignments and papers in school and my grades lifted. In a timely procession, spring finally arrived -- things are green again, there's more sunlight and I can run the trails outside again (making me even fitter as a result; I tend to push myself harder as opposed to the mundane treadmill workout).
Invigorated, I was champing at the bit for our next bout on April 3rd, this time at home and featuring the debut of the Des Moines Derby Dames. It was another solid effort by OCCRG to vanquish the Dames 192-81 in our Malice In Derbyland-themed bout. We stymied their jammers and again constructed often impermeable walls. OCCRG also vastly improved in their efforts to control the pace to their advantage (i.e. speeding up the pace when their jammer was in the penalty box and slowing down the tempo when the other team's jammer was in the box).
As usual Bat R Up sent many girls down hard on the concrete. Left 4 Deadwards remarkably made lead jammer in all eight of her jams. I myself had a personal best in averaging 7.1 points per jam, including a 14-point jam in the second half (second only to a 19-point jam by Left 4 Deadwards, also in the second half). I also have to give praise to the Dames who fought hard in their debut against a team with significantly more bout experience (a rematch is scheduled in Des Moines on May 22).
And now for the photos!
Fast Bettie (left), myself and Killer Baker walling up front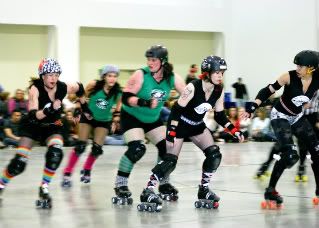 Ophelia Fracture circling the pack as jammer; also seen is Shelby Flyin (argyle socks)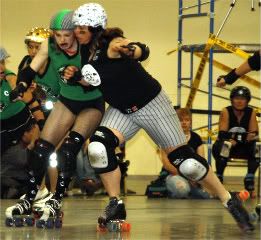 Bat R Up doing what she does best
Fast Bettie and Hitzy Blonde poses with young fans (and future roller girls?)
Also on a final note, Left 4 Deadwards has started her own
blog
and it's definitely worth checking out as she specializes in videos and editing.