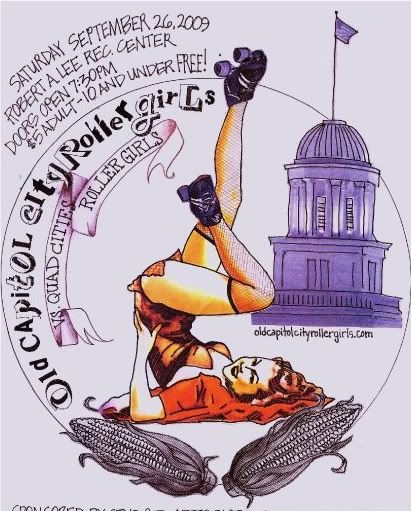 It's been business as usual for the Old Capitol City Rollers, save for the fact that we quite suddenly decided to invite the Quad City Rollers out for a Studio 13-sponsored
scrimmage
on Saturday, September 26th. It will be held at the
Robert E. Lee Recreation Center
in downtown Iowa City and will begin promptly at 8 PM. All of you local derby fans who have been hungering for a match; here's your chance to see it in your own backyard! This should be an excellent preview of our upcoming official first home bout slated for the end of next month, and is sporting the theme 'Alice in Derbyland.' Super
schway
.
The tentative line-up is slated to include: Toxic Sugar, Sweet Abattoir, Shelby Flyin', Fonda Cuffs, Killer Baker, Ophelia Fracture, Furious George, Hellyna Bucket, Bat R Up, Animal Mother, Left 4 Deadwards,
Triple D. Zaster
, Fast Bettie and Quantum Bombshell.
Referees will be T-Bird, DeeVious Doll and Crash Carelli.
In other news, I am beginning to have dreams about derby (in addition to eating and breathing it when I am awake). I'm not sure if I should be alarmed or not, but I thought it was worth noting. Hopefully it's a good omen.
And after about a month of comparison shopping, reading reviews and agonizing over different boots I decided to bite the bullet and upgrade from my trusty SureGrip Rebels to the Riedell Black Widow, better known as the 695 model. It should be a good fit for me --both literally and figuratively-- as it is a newer model with a 3/4-inch heel for "fast twitch (jam) skaters" and comes with aluminum trucks and bolted plate. To enhance the boot I am also adding Swiss Bone bearings and new Sugar wheels, so this girl should be absolutely flying in a fortnight or so.