Yesterday the Old Capitol City Roller Girls took time out for a fun barbecue at Happy Hollow Park in Iowa City. It was quite possibly the first time most of us (minus a few ladies preparing for RAGBRAI) got together outside of practice at someplace other than a bar, besides skate-cleaning at Helena Bucket's house (a chore in itself).
This also meant husbands, partners, friends and kiddies could partake in the fun as well. Not even unseasonably cool temperatures and overcast skies could keep away the OCCRGs, who had assembled between themselves a sumptuous feast of fancy hamburgers, chips and salsa, grilled veggies, cookies, veggie burgers, homemade guacamole, multifarious fruits and enough pineapple to satisfy yours truly.
It would be unbecoming of me at this point not to give major props to skater Dre, who began organizing the soiree late last month despite a very busy work schedule.
Happy Hollow has relatively modern playground but it was probably Atomic Bombshell's simple two-toned rope which was the biggest hit with the children, who used it for several games of tug-of-war and jump rope. Making s'mores (ingredients and below photos supplied by Left 4 Deadwards) was also popular.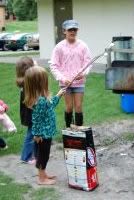 "I like them black," said Atomic Bombshell's daughter Isabel. "So did my mother," I offered inappropriately.
Unidentified meat in the NightMere - Hitzy Blonde sandwich.
Everyone seemed to have a good time socializing and the general consensus is that we should not go too long without planning another get-together. Food and drinks were plentiful, spirits were high and sure enough the sun did come out within an hour of gathering.
Now if we could only get the whole team together next time.